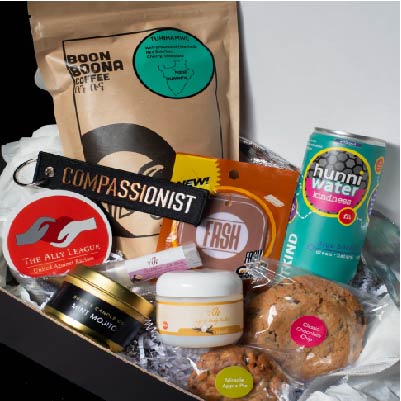 Featured Partners: Winter 2020 Black Box
We are thrilled and humbled that these businesses chose to partner with us, a completely new company, to create our inaugural Black Box, which first shipped in November, 2020.
A new box and group of entrepreneurs will be highlighted with every new edition.
First Edition Black Box Partners
AH Lip & Body Butter | Tacoma, WA
Skin and body care company owned and operated by a Black woman who is a US Veteran.
Boon Boona Coffee | Renton, WA
Sourcing the best African coffee and helping to develop the African coffee industry.
Hunni Co | Edmonds, WA
So good for you that it comes with a warning: Drinking this may cause kindness. Kindness is contagious and may spread to others.
Pinckney Cookie Café | Kirkland, WA
Socially- and environmentally-conscious cookie bakery that sources all available ingredients locally.
Ride FRSH | Farmington Hills, MI
Offering a fresh take on air fresheners. Perfect for your car or gym bag, our air fresheners add that subtle ode to style and scent.
Sukie's Candle Co. | Seattle, WA
As seen in Vogue, Sukie's vegan soy candles offer an environmentally clean burn with no toxins, additives, dyes or pollutants ever added. Burns for 25 hours.
Contents of each new Black Box edition are only revealed after the first shipments arrive on doorsteps - so customers who subscribe to get quarterly boxes and customers who pre-order a Black Box get the bonus of the element of surprise!